My good friend, Melissa, performed last night in a concert held at Orche Court, a mansion down in Newport, and it was amazing. Not only did she perform in it but she was a solo in the Concertino for Clarinet, E flat Major, Op 26. It was truly breathtaking. Too bad we were all sitting stage right and had the bass players standing in front of us the whole time so we could only see their backs during the performance.
It was definitely a different listening experience sitting that close to the basses. It completely changed the overall sound of the concert with the parts that should have been more subdued, exchanged for the parts that should have been louder and more prominent.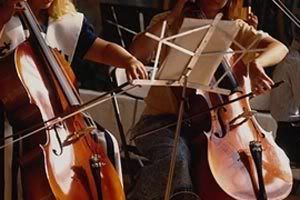 There were a number of instances that we could definitely hear a few mistakes but nothing that ruined the concert. A small boy, probably no more than 10 years old, was playing a violoncello, a smaller version of the cello, whose instrument became a little out of tune by the end of the concert but just the fact that he was holding his own amongst adult musicians says a lot.
But the star of the show, sorry Melissa, was an 11 year-old solo violinist playing the Concerto for Violin #4, D Major, K 218 who was spectacular. It was really something to witness so small a person produce something that strong that could elicit such powerful emotions. I think I saw her parents in the audience video recording it and I couldn't help but wonder just how proud they must feel every time they hear her play.